433Mhz 100mW Radio Telemetry Kit
Available in 433Mhz
Air data rates up to 250kbps
The range is approx 1 mile (1.6 Km)
MAVLink protocol framing and status reporting
Frequency hopping spread spectrum (FHSS)
Adaptive time division multiplexing (TDM)
Support for LBT and AFA
Micro-USB port
Adaptive flow control when used with APM
Based on the HopeRF HM-TRP radio module, featuring a SiLabs Si1000 RF microcontroller.
This is 433Mhz 100mW Radio Telemetry V2 Kit is based on the 3DR Telemetry kit and is 100% compatible as it runs the same firmware onboard. This firmware used by 3D Robotics is completely open-source which is, of course, the reason we are able to use it on our own version at Unmanned Tech.
The Unmanned Telemetry Kit is compatible with Ardupilot or Pixhawk-based systems and allows you to easily add a two-way telemetry connection between your drone and ground station. This product comes with our full support and warranty as we are confident in the functionality and reliability of this item.
This is the new and improved V2 of the Unmanned Telemetry kit. The full features and specifications are listed below but the main features are that both air and ground module are now interchangeable, and each is with a USB connector and a DF13 connector. Please note that to connect to Pixhawk, it is a good idea to also purchase a 6-pos to 6-pos cable as this is easier and better than using the cable included.
Note: Product image may change in terms of design.
This telemetry only could use with APM compatible control board.
As we have some variations in the color of connecting cable, we will be shipping it randomly to our customers.
Features :
Very small size & Lightweight (under 4 grams without antenna)
Transparent serial link
MAVLink protocol framing and status reporting
Frequency hopping spread spectrum (FHSS)
Adaptive time division multiplexing (TDM)
Support for LBT and AFA
Configurable duty cycle
Interchangeable air and ground modules
Micro-USB port
6-position DF13 connector
100 mW maximum output power (adjustable)
Based on HopeRF's HM-TRP module
RP-SMA connector
2-way full-duplex communication through adaptive TDM
UART interface
Transparent serial link
MAVLink protocol framing
Frequency Hopping Spread Spectrum (FHSS)
Configurable duty cycle
Error correction corrects up to 25% of bit errors
Configurable through Mission Planner and APM Planner
Built-in error correcting code (can correct up to 25% data bit errors)
The demonstrated range of several kilometers with a small Omni antenna
Can be used with a bi-directional amplifier for even more range
AT commands for radio configuration
RT commands for remote radio configuration
Adaptive flow control when used with APM
Based on the HopeRF HM-TRP radio module, featuring a SiLabs Si1000 RF microcontroller.
Package Includes :
1 x 3DR Radio Telemetry with the case and Tx and Rx Antenna.
2 x cables (APM/PIX).
2 x 3.5dbi antennas.
To ensure that your order reaches you in the fastest time and in good condition, we only ship through reputed courier agencies. While we shall strive to ship all items in your order together, this may not always be possible due to product characteristics, or availability.
However, we will inform you before doing it. You may track the shipping status of your order on our website, by clicking at Track your Order section. Please note all items (including gifts) will be shipped with an invoice mentioning the price, as per Indian Tax Regulations.
Products with LITHIUM CONTENT will be shipped via SURFACE/ROAD.
HAVOC HOBBY will NOT BE RESPONSIBLE for orders with
Shipping Address: C/o Address /Neighbour Address/College Hostel Address/PO Box.
Orders delivered to: Servants/Maids/Building Security/Neighbour.
Orders with inappropriate Address/Mobile Number
Orders placed on behalf of Others/Friends i.e., 3rd Party.
SHIPPING PARTNERS
We use BLUE DART/ FedEx to ship our products to your destination depending upon destination address.If BLUE DART has no access to destination address then FedEx will be used & vice versa. Most BLUE DART preferably covers PAN INDIA.
DOMESTIC SHIPPING PARTNERS :

INTERNATIONAL SHIPPING PARTNERS :

SHIPPING TIME / DELIVERY TIME
We make our best efforts to ship your order to next day of order placed. We ship on week days (Monday to Friday), excluding public holidays. Though we can guarantee a delivery time of 7-10 working days to anywhere in India, it is totally beyond our control. Each shipping companies have their own methods, intermediate transit locations etc. and the delivery time is not predictable. Please plan your order allowing sufficient time for the delivery instead of last-minute orders.
Please have a double check of all the qty of items/or individual items when the package is delivered. If any of the qty of ordered items / individual item is missing please inform us for the same withing 24 hrs of receiving the package at:havochobby@gmail.com with SUBJECT:REFERENCE TO ORDER NUMBER.
Due to the nature of hobby, we DO NOT provide any kind of warranty/guarantee for any kind of products sold at www.havochobby.com /.in (HAVOC HOBBY).
Although we assure you all of the products are maintained through a strict QC from manufacturer itself. If you have any technical query after your purchase, you can directly call us or WhatsApp us on (+91) 9535545654. We will try our best to solve the query for the same.
For Cancellation of order please refer to our CANCELLATION POLICY.
In the event of product Dead on Arrival or due to manufacturing defects from the factory itself, the defects to be notified to our team through email: havochobby@gmail.com with SUBJECT: REFERENCE TO ORDER#<NUMBER> DOA within 24 hrs of delivery of the product. In case of manufacturing defects OEM support will be provided to the buyer as far as possible, depending on our contract with the OEM. In case the claim is made after 24hrs HAVOC HOBBY does not hold any responsibility for any of the products.
My product is completely working but of no use to me will HAVOC HOBBY accept return?
HAVOC HOBBY may exchange item only if the packaging is not broken and provided the customer has informed us within 24 hours of receiving the items on email: havochobby@gmail.com                     Phone/WhatsApp: (+91) 9535545654 . If any of these criteria are not matched HAVOC HOBBY is not liable to exchange such items.
We urge customers to select products properly while ordering. If for some reason we do provide a Refund it will be in form of Coupon Codes only for next purchase.
If the RETURN criteria are accepted by HAVOC HOBBY customer will arrange a return Shipment costs & arrangements for sending back the items to us. We will check the items thoroughly which can take up to 7-10 working days then only we can conclude for coupon code for next purchase or the item will be sent back to customer.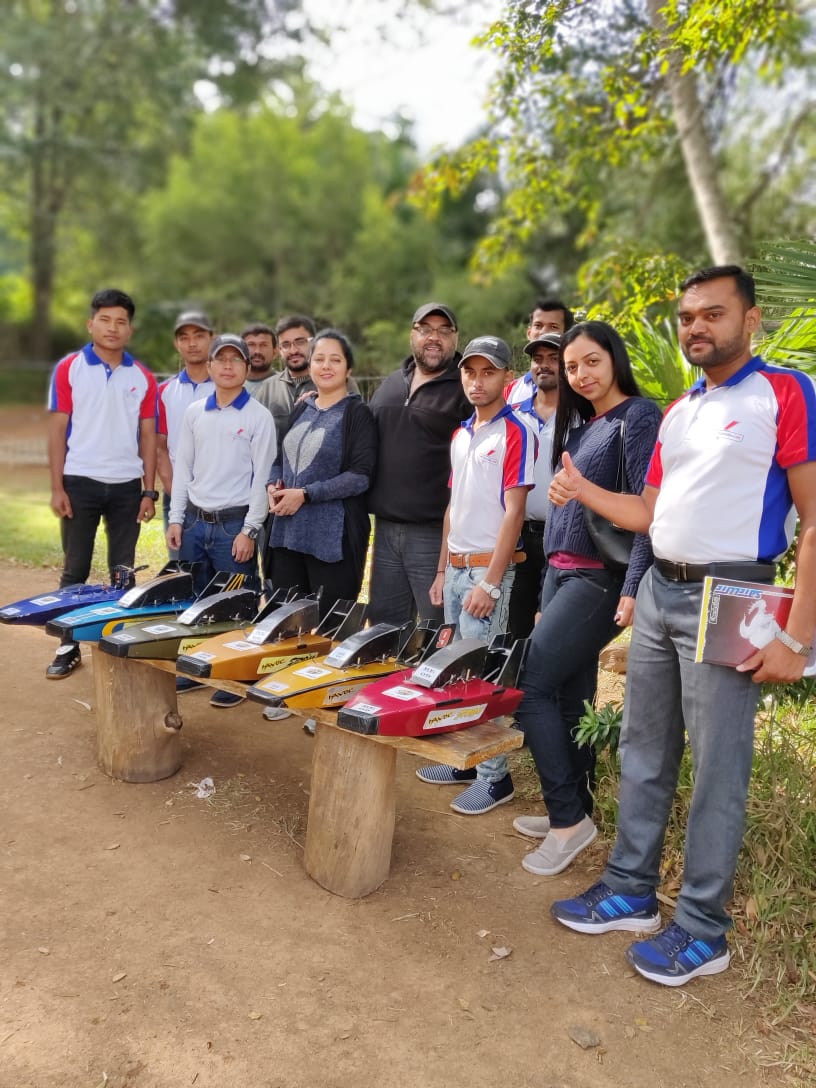 About Havoc Hobby
The Havoc Hobby team is a group of passionate hobby enthusiasts who are dedicated to providing our customers with the best possible shopping experience. From our knowledgeable and friendly staff to our extensive range of high-quality products, we take pride in everything we do. Our team is made up of hobby experts who are always on hand to offer advice and guidance on everything from model building techniques to remote control vehicle maintenance. We're constantly updating our knowledge of the latest trends and products in the hobby industry, and we're committed to staying at the forefront of this ever-evolving field. At Havoc Hobby Toy Store, our team is the heart and soul of our business, and we're always ready to help our customers discover the joy of hobbies
★★★★★

"I love shopping at Havoc Hobby Toy Store! The staff is always friendly and helpful, and they have an amazing selection of toys and hobbies for all ages. My son and I have spent many happy afternoons browsing the shelves and finding new treasures to take home"

Author's name

Los Angeles, CA
★★★★★

"I've been shopping at Havoc Hobby Toy Store for years, and I always come back because of the excellent service and quality products. They have a great selection of science kits, educational toys, and crafts, which are perfect for keeping my kids entertained and learning at the same time."

Author's name

Los Angeles, CA
★★★★★

"I recently discovered Havoc Hobby Toy Store, and I am so glad I did. The store has a fantastic selection of board games and puzzles, which are perfect for family game night. The prices are very reasonable, and the staff is always happy to offer recommendations and advice."

Author's name

Los Angeles, CA
★★★★★

"Havoc Hobby Toy Store is a paradise for toy enthusiasts! I have been a regular customer for over a year now, and I can confidently say that they have one of the best selections of toys, models, and hobby kits in town. Highly recommended!"

Author's name

Los Angeles, CA
★★★★★

"I'm a collector of action figures and model kits, and I can honestly say that Havoc Hobby Toy Store is one of the best places to find rare and hard-to-find items. Their inventory is constantly updated with new releases and exclusive items, and their prices are very competitive."

Author's name

Los Angeles, CA